The Trager® Approach
What could be softer? What could be freer? What could be lighter?
…And softer than that? …And freer than that? …And lighter than that?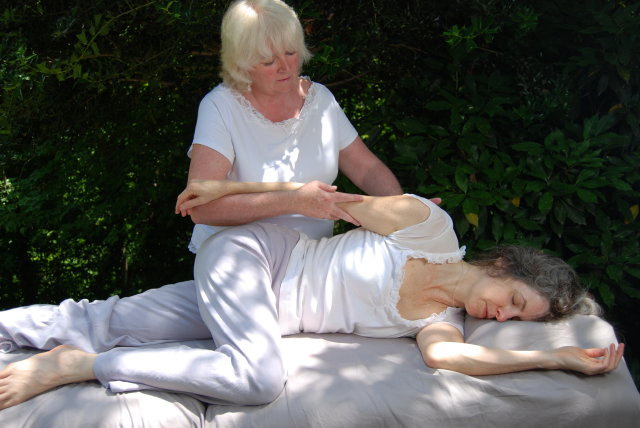 About the Trager Approach
The Trager Approach is a pleasurable, gentle and effective approach to mind/body integration. Each session helps release deep-seated physical and mental patterns of rigidity resulting in deep relaxation, increased physical mobility, and mental clarity. The benefits of a Trager session are long-lasting and cumulative, with subsequent sessions allowing for deeper and longer lasting changes.
The Practitioner works in a meditative state, using soft yet deeply sensing touch and effortless movement to communicate with your body and mind the feeling of a freer and easier way of being and moving. As your body and mind receive these soft movements, tensions disappear and new movement patterns become possible.
There are two aspects of The Trager Approach, table work and Mentastics®. In the table work part of the session, you, the client, lie on a well-padded table in a safe, comfortable environment while your body is supported and gently moved within its pain-free range and natural rhythm. You may choose to be fully clothed, or minimally clothed (bathing suit for gentlemen; 2-piece bathing suit or bra and panties/shorts for ladies.)
Part of each session will be spent with Mentastics, instruction in the use of self-care movements.
Dr. Trager developed these simple, effortless movements to encourage playful exploration of "what could be freer" for your body. Integrating Mentastics into your daily life will allow you to enhance and recall feelings of ease, freedom, flexibility and joy.
Mentastics is taught both in private sessions and in group classes.
Benefits of Trager Sessions
Freeing the mind from patterns of rigidity or poor movement facilitates the natural increase of feelings of peace, joy and well-being. Many people seek Trager sessions for personal growth. The Trager Approach has also been reported to ease or manage a wide range of conditions including, but not limited to:
Stress; back and neck pain; limited movement; everyday aches and pains; back pain; muscle spasms; depression; headaches; multiple sclerosis; physical/emotional trauma; post-polio syndrome; cerebral palsy; injuries; Parkinson's disease; carpal tunnel syndrome; fibromyalgia.
Visit www.tragerus.org, website for the United States Trager Association, for more information about Trager®.