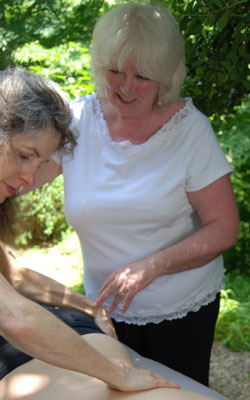 Freedom Bodywork® Certification Program

Freedom from pain
Freedom from tension
Freedom from fatigue
Freedom from boredom
FREEDOM BODYWORK® LEVEL 1: BASIC TECHNIQUE (CLIENT SUPINE) 21CE- 3 days
FREEDOM BODYWORK® LEVEL 1: BASIC TECHNIQUE (CLIENT PRONE) 21CE- 3 days
FREEDOM BODYWORK® LEVEL 1: SUPERVISED PRACTICE DAY (CLIENT SUPINE OR PRONE - 6CE; FULL PROTOCOL - 8CE.)
FREEDOM BODYWORK® LEVEL 2: ADVANCED TECHNIQUE 14CE- 2 days
FREEDOM BODYWORK® LEVEL 3: DEEPENING QUALITY OF TOUCH 14CE- 2 days
FREEDOM BODYWORK® LEVEL 4: ANATOMY, INTENTION, & GREATER EFFECTIVENESS 14CE- 2 days
FREEDOM BODYWORK® LEVEL 5: ENGAGING THE CONSCIOUS MIND (MOVEMENT) 14CE- 2 days
FREEDOM BODYWORK® LEVEL 5: ENGAGING THE CONSCIOUS MIND (REFLEXES & RECRUITMENT) 14CE- 2 days
FREEDOM BODYWORK® LEVEL 6: THERAPEUTIC INTERVENTION- SPECIAL NEEDS CLIENTS 14CE- 2 days
FREEDOM BODYWORK® LEVEL 7: ENERGETIC PRINCIPLES OF MOVEMENT & ADVANCED TECHNIQUES FOR WORKING WITH THE BREATH 21CE- 3 days
FREEDOM BODYWORK® TUTORIAL/ASSESSMENT 2CE- Private appointment
Quality of touch is the most important aspect for certification, and someone may be certified anytime after Level 2 if they have reached the level of sensitivity and skill required. Certified Freedom Bodyworkers will be listed on the website, if they so desire.
Classes are for professional therapists.
Discounts are offered for completing Level 1 within one year. Contact Dynamic Equilibrium for more information.
See the class schedule here.